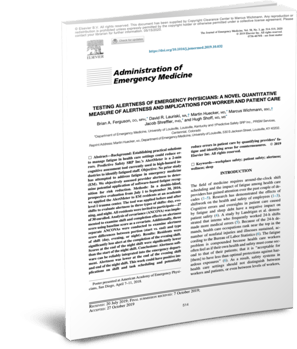 Whitepaper - Testing the Alertness of Emergency Room Physicians
Abstract Published ELSEVIER
Background: Establishing practical solutions to manage fatigue in healthcare settings could reduce errors.
Predictive Safety's AlertMeter® is a 2-min cognitive assessment tool currently used in high-hazard industries to identify fatigued staff.
Objective: No prior study has attempted to address fatigue in emergency medicine (EM). We objectively assessed provider alertness to determine the potential application of software-based fatigue recognition for risk reduction.